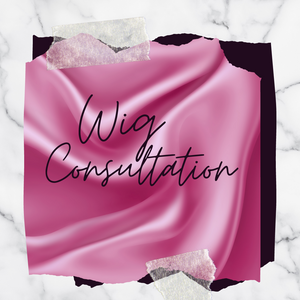 In our wig consultations we provide the complete SLF Experience! You get a one on one 30 minute virtual consultation with Summer Terry going over your healthy hair goals, desired wig construction, styling specifications and any other questions or concerns you may have.
Additionally, if you don't already know your head measurements you will be guided with a step by step tutorial. You will need a fabric tape measure to complete the head measurement process. 

Insert any comments and or notes on needed for your consultation. (ex. cover hair loss, birthday, special occasion, etc and the month you are looking for a consult)
All custom wig consultations fees are Non-Refundable! 
What to expect after booking:
After booking you will receive an email with a selection of dates and times to choose from.
Once your consultation date and time is confirmed you will receive a confirmation email with a personal zoom invite and access link.
We understand the world is in a new normal where life changes can be unexpected. We allow a one time reschedule if need be and you must do so 24hrs prior to your consultation by emailing us at info@societylafemme.com. 
Consultations dates MUST be confirmed and completed within 30 days of purchase. After 30 days and you have failed to confirm a date you will have to book a new Wig Consultation order.