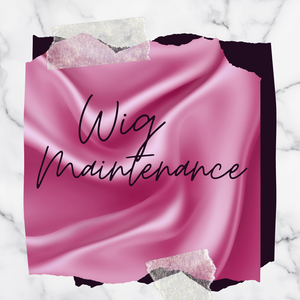 Send us your wigs and let us do the rest!

Every Wig Maintenance order includes a wash, condition and style. We will provide excellent care to your unit with a clarifying shampoo and deep condition treatment with only the best professional grade products that are sulfate-free and paraben-free removing all dirt, oil, and outside elements that can weigh the hair down.
As a complimentary service we will flat iron units up to 16inch at no additional charge. PLEASE MAKE SURE to select from the required style and parting space options. 
If the wig is a textured or curly hair unit PLEASE MAKE SURE to select the option to have the hair styled in its natural curl pattern.
***CUSTOMER IS RESPONSIBLE FOR SHIPPING FEES TO SEND AND RECEIVE THIER WIG***


After placing your Wig Maintenance order PLEASE MAKE SURE to ship the unit to the address below and send tracking information to info@societylafemme.com with your Name and Order # in the subject line. 

Society LaFemme LLC
P.O. Box 295
Bronx, NY 10451

or

Society LaFemme LLC
558 Grand Concourse
Suite 295
Bronx, NY 10451